Dear Residents, Families, Team Members and Partners,
During the past year, Baptist Retirement Homes of North Carolina, took a long look at the history and future of our organization. Part of this included strategic planning sessions with the executive leadership and board of directors. Our organization continues to grow and positively impact more lives. We will continue to operate with Baptist values and continue to make chaplain and worship an important part of our campuses. Through-out our history and during this evolution our name has remained the same. As part of our brand, name is so important, to reflect our history, keep our Baptist values and reflect where we are today and the direction for our future.
In spring 2022, we engaged with Love & Company to develop a name and brand that represent our growth into the future. The task force that worked with Love & Company was comprised of residents, board members and management. The goal was for the new name to be more inclusive and ecumenical but also honor our 70+ year history here in North Carolina. We want to invite those who desire community and see endeavors that foster holistic wellness. Welcome to…..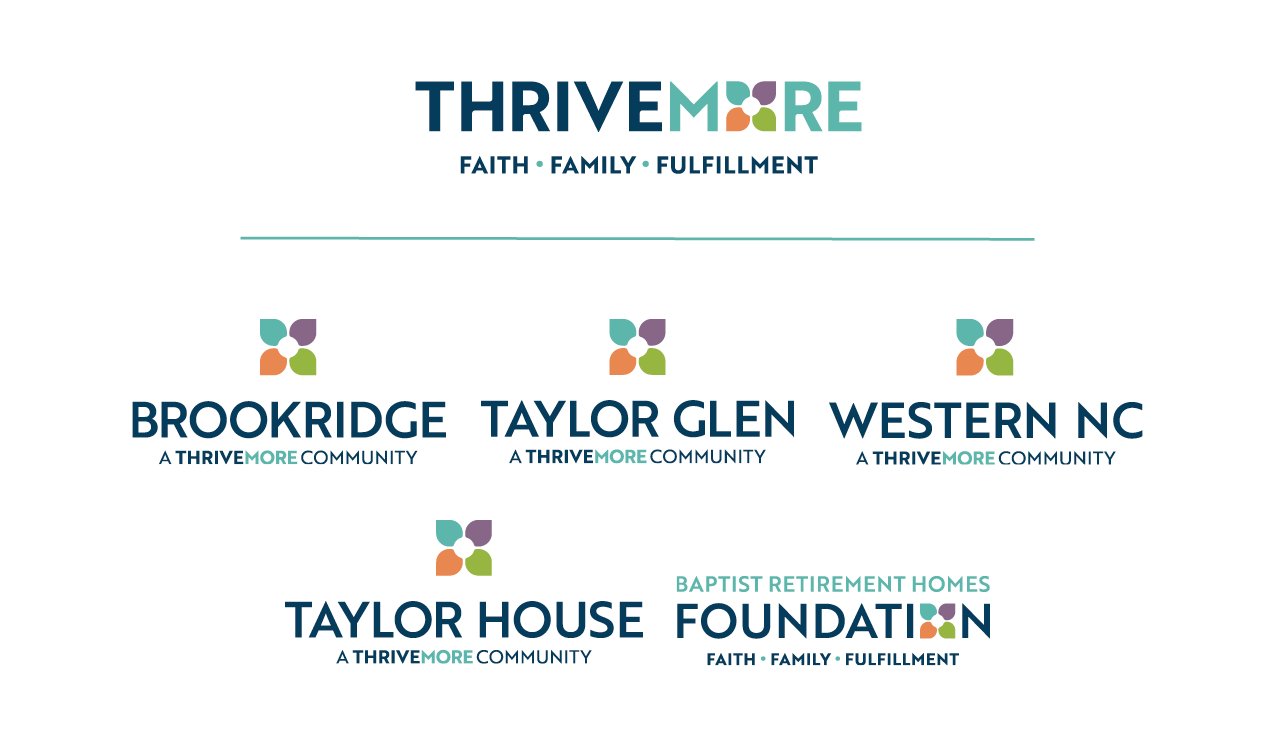 The design of the new identity was conceived and finalized by Tandem Senior Living Advisors. The wordmarks took inspiration from "Thrive" so as to evoke the idea of flourishing, of growing, prospering and succeeding. It implies healthy body, mind and spirit. ThriveMore conveys the idea of elevating your lifestyle to the next level, to discovering your full potential, to truly living your best life. The tag line, Faith. Family. Fulfillment., communicates elements the steering group felt were highly important to honor our Baptist heritage. 
ThriveMore is one family, but each of our communities is unique and will retain its' own identity. We proudly support all the needs of each of our locations, with varying market demands. Some new initiatives at our communities include, new stand-alone homes, renovations of common spaces, advances with how we care for individuals with memory loss, specialized healthcare programs and leadership training for our colleagues. 
The name also has potential to benefit staff recruitment and retention, as the organization can build programs and campaigns around team members "thriving more" at ThriveMore communities.
Throughout our 70-plus year history, we have provided quality care and welcoming neighborhoods to older adults in our North Carolina communities. We are so excited that this long standing tradition will continue with our organization into the future.
Reed VanderSlik
President and CEO at ThriveMore
Board Of Directors